---
#1 Most Effective & Flexible Toilet Brush
Introducing the Ultimate Silicone Toilet Brush - Say Goodbye to Yellow Deposits and Dirty Holders!
Are you tired of dealing with stubborn yellow deposits under the rim and in hard-to-reach corners? Is your brush holder constantly filling with old, dirty water? It's time to revolutionize your toilet cleaning routine with our highly sought-after silicone toilet brush.
Our incredibly popular silicone toilet brush is specially designed to tackle those hard-to-reach corners, including the dreaded areas under the rim. Unlike traditional brushes, it doesn't rust or fall apart over time. Plus, its gentle bristles won't scratch the bowl, providing a worry-free cleaning experience.
Benefits Of The Most Flexible Silicone Toilet Brush
✔ SMART DESIGN - Created with silicone for flexibility to get to those hard to reach places and won't rust over time.
✔ EFFECTIVE RESULTS - No more difficulty getting under the toilet bowl or in the corners. Removing stuck particles with out hassle.
✔ MODERN DESIGN - Lets face it, décor matters. This design suits any bathroom space.
✔ HYGENIC - Easy to clean, with a simple rinse that doesn't leave residue or unwanted odor, or leave a pool of old, dirty water in its holder.
✔ SPACE EFFICENT - Can be fitted on the bathroom wall next to the toilet. Off the floor and out of the way.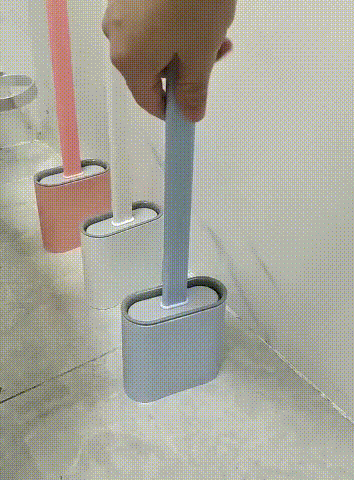 Trusted By Australians Everywhere
Say goodbye to stagnant water pools in your brush holder! Our silicone brush is cleverly designed to prevent water from getting trapped in the bristles, eliminating the unsightly and unhygienic pooling of water in the holder. With its innovative ventilation system, our brush keeps germs and bacteria at bay, ensuring a clean and healthy bathroom environment.
We understand the importance of maintaining a hygienic space, which is why our Silicone Toilet Brush is an investment worth making. But functionality is not the only feature we pride ourselves on. Our Silicone Toilet Brush is designed to complement modern décor, adding a touch of style to your bathroom. Its sleek and flexible design allows you to effortlessly tackle those pesky stuck bits on the bowl, ensuring a thorough and efficient cleaning experience.
A More Hygienic Approach
Moreover, our brush eliminates the hassle of dealing with old, dirty water trapped in the holder for days on end. With our silicone brush, cleaning your toilet becomes a breeze, saving you time and effort.
Say goodbye to yellow deposits, dirty holders, and unhygienic cleaning tools. Upgrade to our Silicone Toilet Brush today and experience the difference for yourself. Keep your bathroom sparkling clean, maintain a germ-free environment, and enjoy the convenience our brush has to offer. Don't wait any longer - make your toilet cleaning routine easier and more effective with our incredible Silicone Toilet Brush.
One Silicone Toilet Brush Includes
1x Flexible Silicone Toilet Brush
1x Detachable Ventilated Brush Holder (with a bottom seal)
1x Wall Mount (FREE EXTRA)
Measurements: W 43mm H 365mm D 43mm
NB: Can Be Mounted To The Wall or Placed On The Floor
Color Choice: White, Black, Grey, Pink, Blue, Green
*Please check you spam/junk folder if you do not recieve your order information in your email inbox.